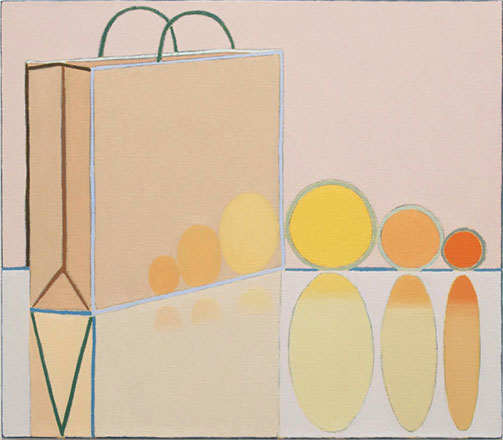 Holly Coulis, Paper Bag, Citrus
oil on canvas, 2015
photo courtesy Monya Rowe Gallery
The Other Side @ Monya Rowe
Established in 1565 under Spanish rule, St. Augustine, Florida is the oldest continuously occupied city in the continental United States. From 1763 until the end of the Civil War, St. Augustine passed through the hands of the British, the Spanish, the United States, and the Confederacy. Traces of these complex historical identities are present throughout the city, though they are often veiled with the slick of the tourist industry which is as thick as the Spanish moss hanging from every northern Florida oak. I slowly pulled into the old city, passing numerous tour buses, and four-hundred-year-old buildings (interspersed with replicas). It's interesting that a New York gallery staple would chose to relocate to this quirky city. Monya Rowe, gallery is in a historic neighborhood's retail strip, next door to a day spa. The gallery consists of an open rectilinear space with white walls and unpainted concrete floors. It is a wonderful little space well suited for the intimate scale of the works exhibited.
The Other Side, Monya Rowe's second exhibition in its new location, features six artists described by the press release as "united by their exploration of multiple realities through the use of symmetry and reflection." Primarily a painting show of early and mid-career artists, the exhibition also features textile work by the artist Sheila Pepe. The works all contain reflective elements, literal or conceptual. The mirror motif has long been utilized in painting to represent vanity, temporality, duality of self, and mortality among other things. In Lacan's mirror stage, when an infant first recognizes her reflection, subjectivity begins with the infant now understanding herself as separate from other beings. With this revelation, the performance of identity begins. On this same note, a mirror also suggests illusion. At the root of this exhibition, is the questioning of perceptions of reality.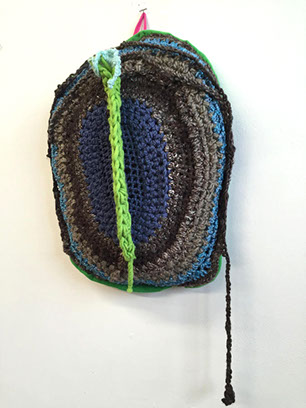 Sheila Pepe, Image (stuffed)
yarn and textiles, 2015
photo courtesy Monya Rowe Gallery
Upon entry, you are greeted by Sheila Pepe's 2015 works, Image (not stuffed) and Image (stuffed), two crocheted and knitted objects hung opposite each other. These torso size objects, (with mirror-like shapes) call to mind the body and the construction of self in relation to one another. Similar in scale, construction and materiality, yet opposites in terms of girth, these objects appear to have evolved together in order to be separate. Moving right to left through the gallery, Eamon Ore-Giron's three small paintings entitled Infinite Regress II, IV, and III (2015) reference geometric abstraction while also implying a symbolic narrative. The small scale and emphasis on symmetry references devotional imagery and perhaps, noumenal concerns. The totem shaped compositions were created with organized congruent shapes, applied with perfection and an utter flatness, atop exposed linen.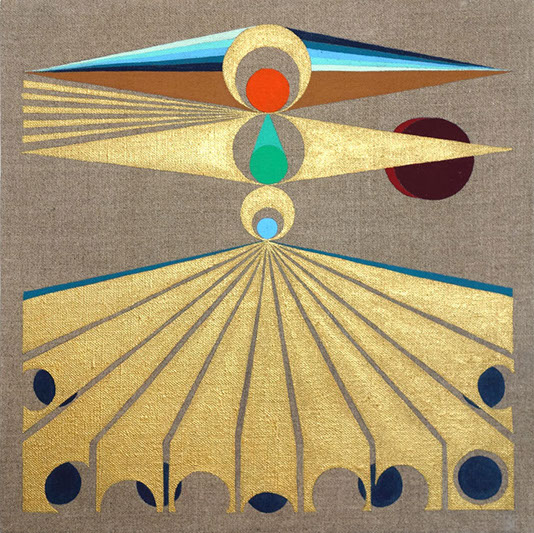 Eamon Ore-Giron, Infinite Regress IV
flasch on linen, 2015
photo courtesy Monya Rowe Gallery
Jake Longstreth's Untitled (2014), is the largest piece in the show at fifty-two by thirty-four inches. This invented landscape, painted in oil with the palette and application of a toned down Bonnard, describes a landmass and its reflection. This piece is painted with the self-consciousness of memory or mis-remembrance. Here, the object and its reflection are equal in their impermanence, calling to mind the ephemerality of experience, of things in nature, of the self. As with Longstreth's painting, the use of reflection in Holly Coulis's Paper Bag (2015), emphasizes the aura of a thing depicted, its 'depicted-ness', this time with everyday subject matter. In this painting, a brown paper bag and three rounded objects are reflected along multiple planes. The sparse geometric forms and flat application of paint lends a sense of emptiness and deflation, calling attention to the surface and breaking the illusion of still life. In the absence of any tonal variation or other effects of light, the reflection at once legitimizes and problematizes representation.
With the last two pieces in the exhibition, What? Love Streams on the Phone (2015) by Angela Dufresne, and Still Life with Marian (2011) by Amy Lincoln, both portraits, multiplicity of self and construction of reality are investigated in more gendered terms. In What? Love Streams on the Phone, the title suggests the dependence on virtual modes to validate our existence. In this piece, a monotype, the portrait of a woman is conjoined with a violent mess of flesh-colored paint that seems to imply loss of self similar to Picasso's Girl Before a Mirror. Additionally The flat, textureless monotype printing gives a vivid sense of being pressed against a window, recalling Lewis Carol's Through the Looking Glass. By far the most narrative piece featured in the exhibit, Amy Lincoln's immaculately painted Still Life with Marian, is loaded in spite of its scale. In the painting, a portrait is flanked by a potted succulent to the left, and cut roses to the right. Lincoln has given us a portrait of a portrait. I am uncertain whether the portrait in Lincoln's painting is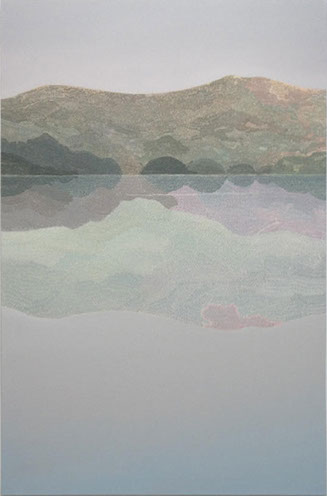 Jake Longstreth, Untitled
oil on canvas, 2014
photo courtesy Monya Rowe Gallery
meant to be the reflection of a sitter in a mirror or a previously executed portrait on a shelf, but either way, she conveys absence. The woman is not the subject, rather it is her absence.
With each work exhibited, the artist's hand is apparent. This offers clues into each artist's complex experience of reality and identity. It's an exhibition that creates space for viewers to contemplate their own versions in relation to those presented by each artist. Temporal elements in the works of The Other Side relate to the often fleeting nature of what we hold dear and what we believe to be true, acknowledging that these things may change tomorrow. The title calls attention to spaces in between, those spaces which link our side and the other, those spaces where the light allows our reflection to be seen.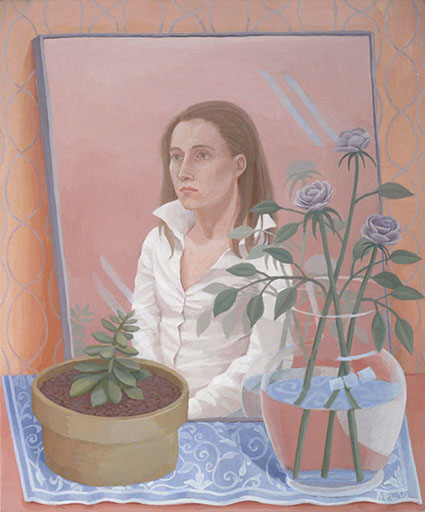 Amy Lincoln, Still Life with Marian
acrylic on panel, 2011
photo courtesy Monya Rowe Gallery
Laura Denzer is an artist currently pursuing an MFA at the University of Florida.
The Other Side
January 13 - March 6, 2016
Monya Rowe
4 Rohde Avenue
Saint Augustine, FL 32084
Hours
Monday - Wednesday: by appointment (please email)
Thursday - Saturday: Noon- 6 PM
Sunday: Noon - 5 PM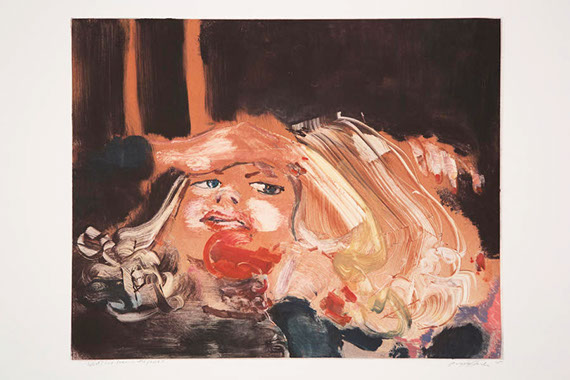 Angela Dufresne, What? Love Streams on the Phone
monotype, 2015, Published by 10 Grand Press
photo courtesy Monya Rowe Gallery